Unique Memorabilia Offer
Triathlon Ontario Celebrates Province's  Proud Contribution to the Sport of Triathlon
– Winning bids are tax deductible and all proceeds go to youth/junior programming –
– Triathlon Ontario, the recognized Provincial governing body of Multisport in Ontario, announced a special offer of three unique triathlon memorabilia items celebrating Ontario's proud contribution to the sport of triathlon. The items will be displayed at Saturday's C3 Triathlon Reunion, at which time online bids will commence. Bids will be accepted until the evening of Triathlon Ontario's Awards Celebration on December 2nd.
Proceeds from the auction will go towards youth and junior programming and each winning bid will be eligible for a charitable donation tax receipt.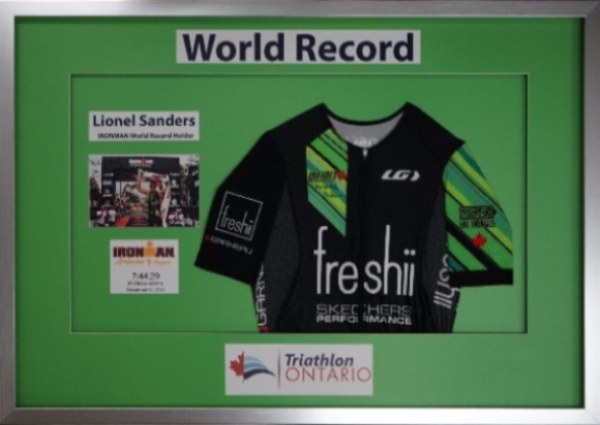 Ontario Legends
Autographed pictures of Lisa Bentley, Simon Whitfield, Lori Bowden with a listing of their greatest triathlon accomplishments and Hall of fame inductions.
Lionel Sanders IMAZ World Record
Autographed replica trisuit and picture honouring Lionel's IM Arizona world record time.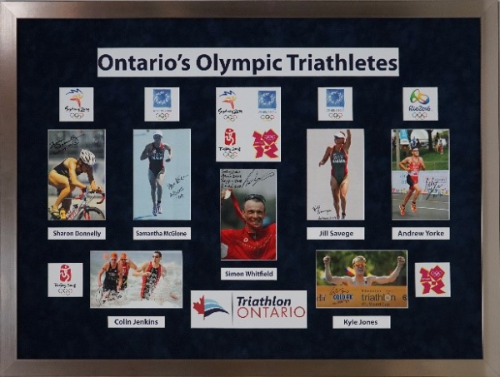 Ontario's Olympians
Autographed photos of Sharon Donnelly, Simon Whitfield, Samantha McGlone, Jill Savege, Colin Jenkins, Kyle Jones and Andrew Yorke, each of Ontario's athletes that have represented Canada at the Olympics
Triathlon Ontario would like to thank all of the athletes for generously donating their time and effort in allowing for the creation of these items. Whether retired or still competing, all have been an inspiration to many in or outside of the sport and they continue to give back to the sport in their own unique ways.
​About Triathlon Ontario
Triathlon Ontario is a non-profit organization that is the recognized Provincial Governing Body for Multisport in the province of Ontario.
Our mission is to provide leadership and governance for the development of a safe and fair environment for Multisport in Ontario. Triathlon Ontario oversees the sanctioning of races and clubs and undertakes a number of duties and responsibilities on behalf of athletes at every level, coaches, clubs, officials and race directors to ensure the growth and development of the sport in a fun and safe way.
For more information please visit:
Follow us on Twitter: @TriOntario
Like us on Facebook: facebook.com/TriathlonOntario